Millionaire Habits Academy
Financial Literacy + Personal Development =
An entirely new type of learning 
6 Weeks of Financial Literacy and Personal Development for ages 5 and up
The earlier your kids learn about money, the bigger the advantage they have. This course covers financial literacy topics from money basics to saving to investments, but also builds the mindset needed to succeed.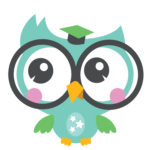 Online Learning at Their Fingertips
Our courses deliver fun, high-quality instruction with live trainings you can view whenever you want. Each week, there are challenges and activities that make complicated finance topics easy to understand!
More than that, our students are building million-dollar mindsets, with the encouragement to take bold leaps, believe in themselves fully, and strive for success. They will finish as a more inspired, focused, and confident version of themselves – ready to take on the world.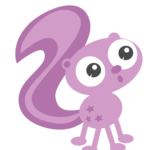 6 Weeks of Live, Virtual Instruction
Immersive learning means learning that lasts. Our class cohorts are intentionally small to allow for personalized attention and content for each tiny guru enrolled. They have our full focus.
Virtual learning also means convenience for you – either log in to the membership area and participate live, or rewatch with pen and paper handy later. You can follow along with your child or let them take the wheel – either way, you will have access to all materials for life.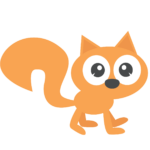 Activities, Challenges, and Ongoing Learning
When the 6 weeks is over, the fun doesn't stop! There is continued support, learning, and opportunities as their understanding and curiosity grows and evolves.
Subscribe to our email list and follow us on social media to get all the details on upcoming programs, occasional surprises, and all of the helpful hints & hacks we have to offer…. because our most awesome stuff goes out via email.
(Tip #1 – Millionaire Habits Academy opens for enrollment September 1st!!)
K-3rd grade
Our youngest students are introduced to the essential core concepts of money and finance in a fun, engaging way.
This age frame is critical for learning, and lays the groundwork for later beliefs and habits. Through cooperative play and self-directed exploration, we foster real understanding and encourage improved learning habits overall through mindfulness concepts and practices.
4th-6th grade
At this age level students are introduced to a wider range of topics in saving, spending, entrepreneurship, effective goal-setting, mindset and emotional intelligence.
The information is tailored to their current knowledge level, and delivered to emphasize real-life choices and applications to create the best framework  for future decision making.
7th-12th grade
At this age level students are able to tackle surprisingly complex concepts, such as investing strategy, economic principles, capital markets, and startup financing.
We also delve deeply into mindset, positive habits, and goal setting. Students' individual aspirations are explored and expanded with the goal of each having the confidence to create the biggest, best version of their early adult life.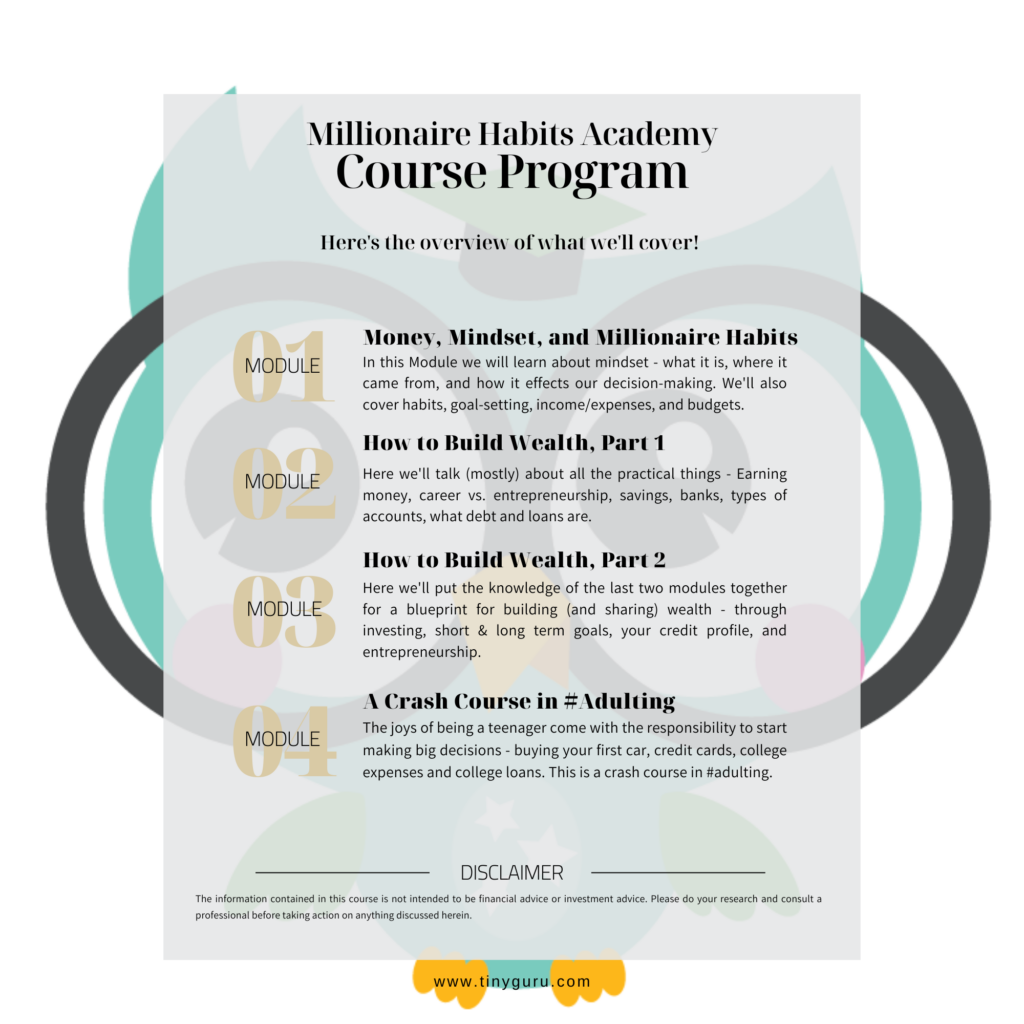 TinyGuru's curriculum was carefully created by educators, finance professionals and executives to be engaging and effective. It delivers advanced financial knowledge, layer upon layer of reprogrammed mindset and decision-making skills in a unique, experiential learning environment.
This propels not only students' later professional and financial success, but their more immediate decision-making skills, sense of purpose, and drive. Developing the whole child is crucial to equipping them for success, and our mission is to help lay the best groundwork possible for your tiny guru's development.
For all of us, there is truly limitless opportunity, and limitless potential – but you have to learn how to see it, how to believe it, and how to get there. This is definitely not being taught in traditional education, even though it is the crucial piece (really, the secret) of true success.
The undeniable truth is that the future is shifting for our children.
It's not enough anymore to just get good grades, go to college, find the secure job.
There is SO MUCH MORE they have to learn. If you're not talking to your children about money and wealth creation, you are leaving it up to social media and pop culture to set the example for them.
When you're an adult, you have to very manually rewire your brain and your mindset for success – not an easy task. But kids don't need to be rewired – they are a fresh slate. They have the luxury of giving this beautiful new way of thinking time to really take.
We are here to help you do the hardest job in the world. Let us make your life a little easier and your child's life better by helping them become a well-rounded tiny guru, equipped for real success in the real world.
Equip them with the knowledge they REALLY need to not only excel, but to forge new paths and accomplish the extraordinary.